Gift Certificates

Pay Online With A Credit Card or Paypal
Go to our services page then select and pay for the items you wish to give. Come back here and fill out this form to provide us with the details of your request.
Your Name:
*
Your E-mail:

*

Recipients Name:

*

Mail Gift Certificate?:
No Yes
Mail To Address:
* required field



Don't want to pay online??
You can always buy Gift Certificates with check or cash in Person or Via US Mail

Deborah's Body Shop
12162 U.S.#1 Juno, Florida 33408
Half mile North of PGA Blvd.
Info@DeborahsMassage.com
561.624.9685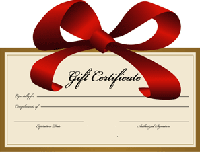 Gift Certificates
Perfect for holidays, birthdays, anniversaries, weddings or any time you want to say "I care".
Mix or match any service.